Strategies for Voting Success
Important Dates, Deadlines, and Troubleshooting Tips
As of today, October 24, 2020, over 5 million Florida voters have already cast ballots in the 2020 General Election, with over 315,000 of those votes from Miami-Dade residents. Polling places across the state saw record turnout, with Miamians standing out in the pouring rain before dawn in long (but relatively fast moving) lines to cast their ballots on the first day of Early Voting. This year, Miami-Dade Supervisor of Elections Christina White estimates that voter turnout could be as high as 80 percent, a blockbuster year for voting in Miami.
Although the first day surge of Early Voting participants subsided throughout the week, Miami-Dade's 33 early voting sites remained busy throughout the week, with people voting at the polls or using one of the convenient drive-through drop boxes to deposit mail-in ballots. As for me—my husband and I chose to vote early, in person. It was easy, safe, and quick. Here's our obligatory "I Voted" sticker selfie. Who else feels excited when they get that coveted celebratory sticker after voting?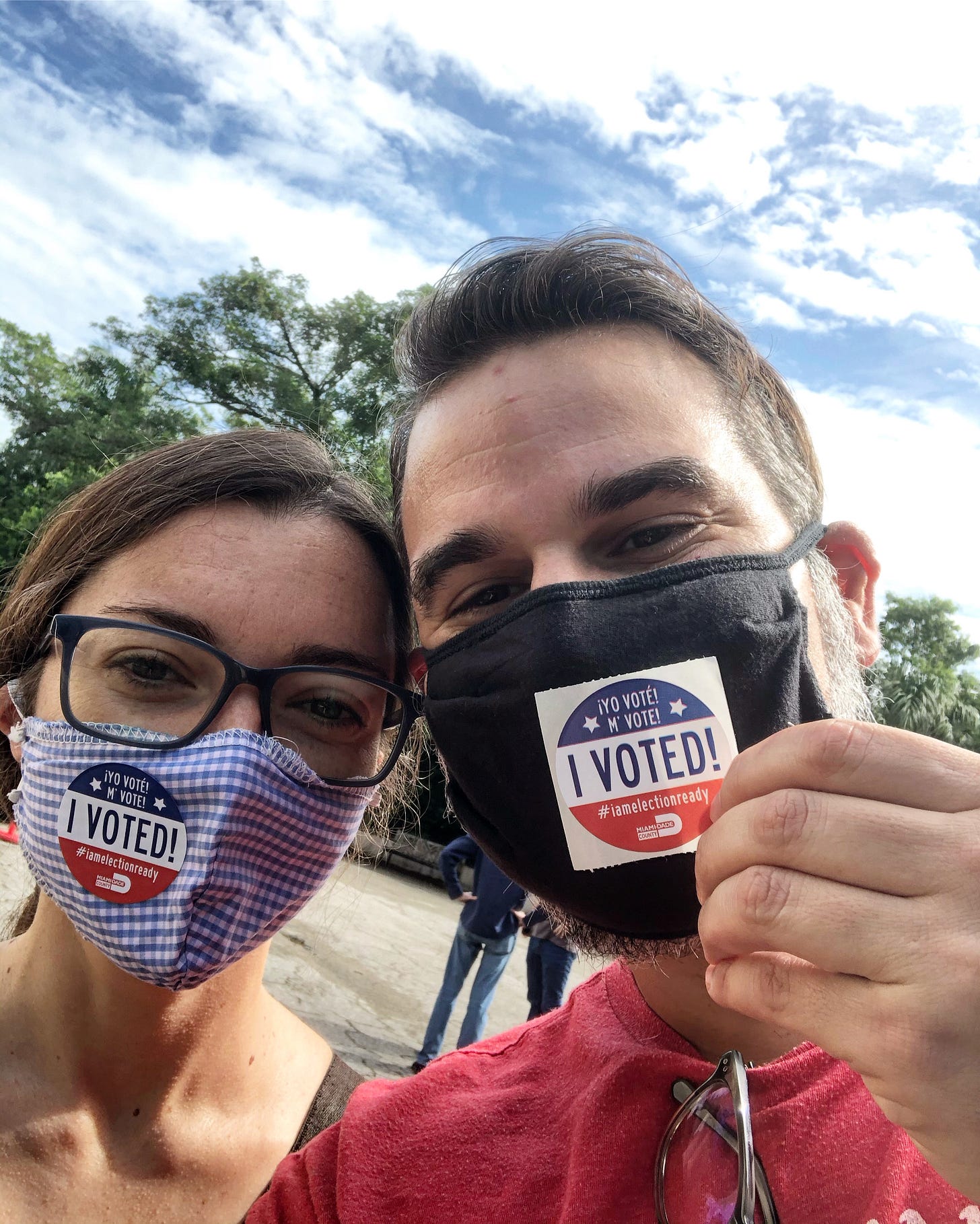 Now that we're well into the Early Voting period, I wanted to send a quick note to my readers to remind you of a few critical dates and explain the signature matching and cure process. If you are still making a voting plan and need some guidance, remember to check out my Guide to the November 2020 Ballot.
---
Important Dates and Deadlines
Mail-in Ballots
The last day to request a mail-in ballot is TODAY, October 24th! If you want to vote-by-mail, you must make your request by 5 p.m. this afternoon. You can make your request online. If you do not do that today, you will have to vote in person.
If you made a mistake on your mail-in ballot and you still want to vote by mail rather than in person, you can request a replacement ballot by contacting the Elections Department and mailing or personally delivering a signed Replacement Ballot Oath to the Elections office, located at 2700 NW 87th Avenue, Miami, FL 33172. Time is getting short, though, so take care of that soon if you want to use this option.
Early Voting
Early Voting sites opened on Monday, October 19 and will continue through Sunday, November 1st. (There is no early voting on the Monday before Election Day.) There are 33 early voting sites distributed across the county, and voters registered in Miami-Dade may vote at any early voting site or use one of the convenient drop boxes to deliver your mail-in ballot instead of dropping it in the mail. Remember to bring your photo ID with you.
Here is the list of the hours and locations of all 33 Early Voting sites: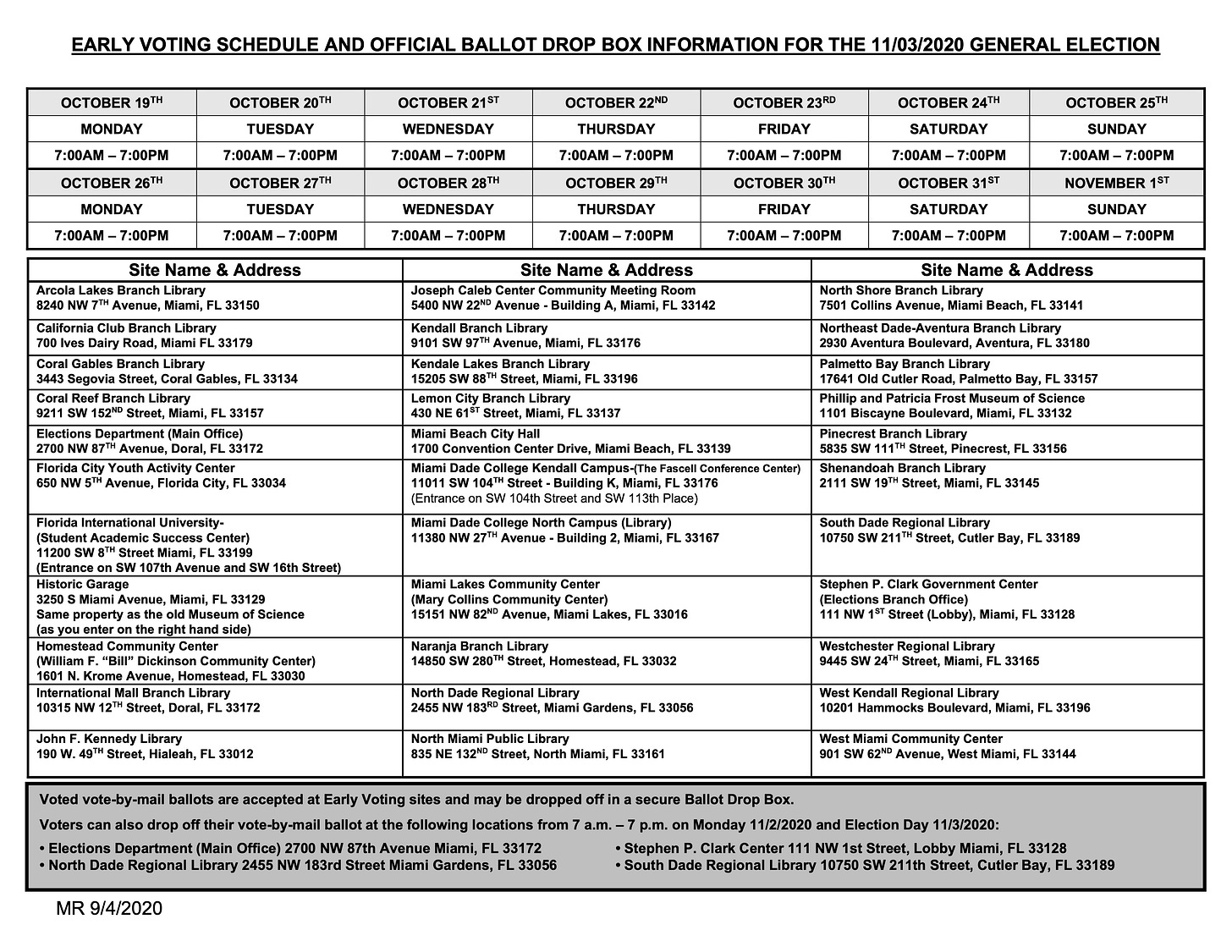 If you're wondering what the wait times look like, especially during busy times like weekends, Miami-Dade Elections has an Early Voting wait time tracker you can use to plan your vote. Most sites are reporting little to no wait.
---
Troubleshooting a Signature Mismatch Issue
About Signature Matching
Florida law requires County Elections supervisors (and their staff) to review all mail-in ballots for signature match. The signature on the outside envelope of your mail-in ballot must match the signature contained in the voter registration database maintained by the County Supervisor of Elections. For most people, that signature is the one that is on file with the voter registration form you submitted most recently, although the County may have multiple signatures on file for you. The signature on your ballot must match at least one of those on file.
For many of us, it may have been years since we submitted a voter registration form and our signatures can change over time. It is possible to see what signature the Elections Department has on file for you, but it requires going in person to their main office in Doral (2700 NW 87th Avenue, Miami, FL 33172) or the branch office at Stephen P. Clark Government Center (111 NW 1st Street, Miami, FL 33128).
Curing a Signature Mismatch
So what happens if you cast a mail-in ballot and your signature does not match the one on file? This is the most common reason a mail-in ballot gets rejected, but there is a remedy for this situation.
When the Elections Department receives your mail in ballot, staff reviews the signature on the envelope and compares it to the signature(s) on file. If there is a mismatch, that ballot is flagged for review by the Miami-Dade Canvassing Board. A Canvassing Board is a 3-person board created by state law in every County that decides whether ballots with signature mismatches and other issues are to be accepted or rejected. That Board consists of the Supervisor of Elections, a County Judge, and the Chair of the County Commission or his/her designee.
If your ballot has been rejected for a signature mismatch, the Elections Department will contact you by phone, text, or e-mail to let you know. Do not try to go vote in person instead; you will not be permitted to do so. Instead you will be given an opportunity to cure the signature mismatch on your mail-in ballot by submitting a Cure Affidavit and proof of identity to the Elections Department.
Here is what that affidavit looks like: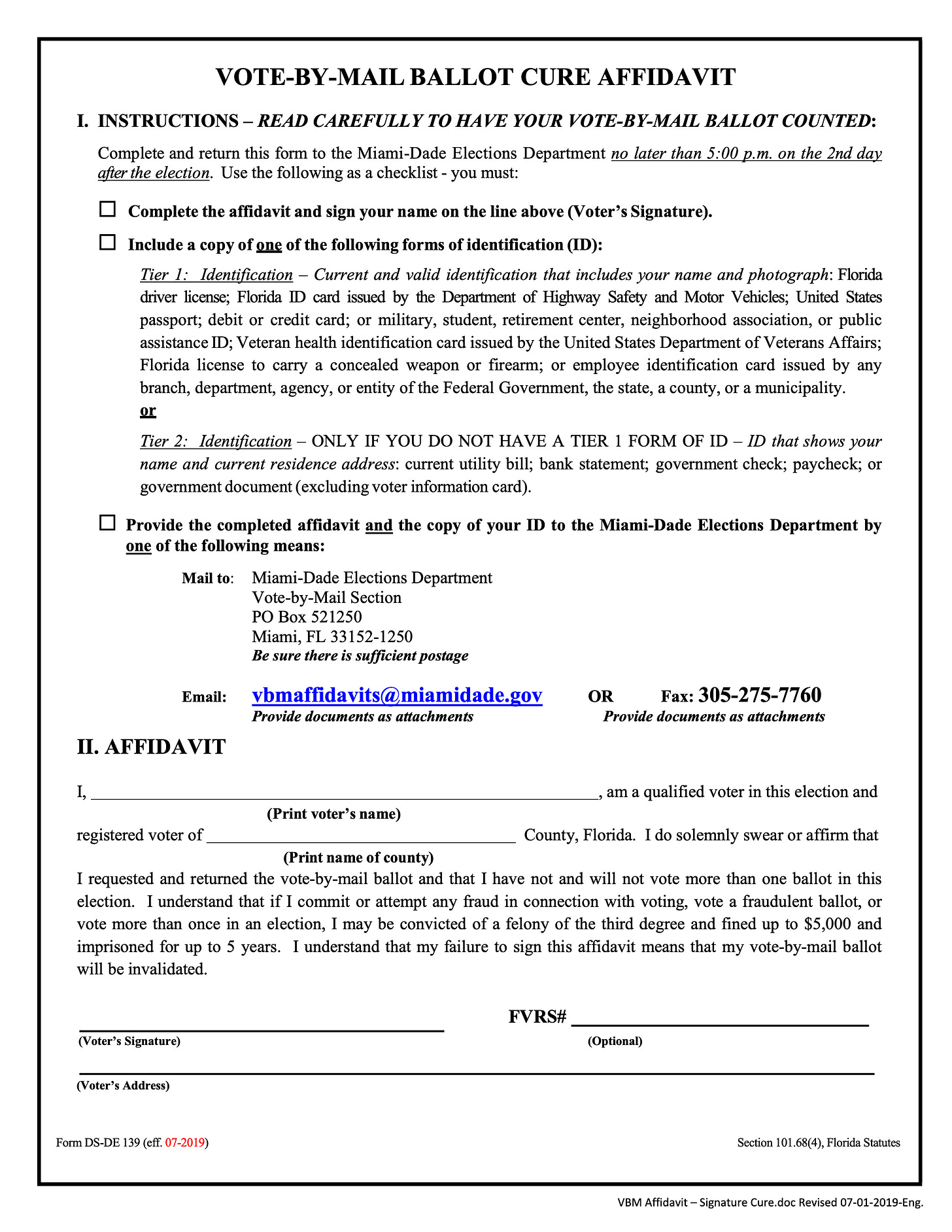 You must submit this form along with one of the acceptable forms of ID listed, including a drivers license, a passport, a credit/debit card, a military ID, a student ID, a federal employee ID, a concealed weapons license, or another form of ID that shows your name, address, or current residence by email, fax, or mail by 5 p.m. on November 5th in order to cure your signature and have your vote counted. If the Elections Department contacts you, you should complete one of these forms and submit proof of ID as soon as possible!
---
If you have any other voting related questions, please feel free to reply to this e-mail, e-mail me directly at leah@civicculture.co, or leave a comment on the web version of this newsletter. If I can't answer your question, I will do my best to help put you in touch with someone who can.
And of course, if you need some help understanding what is on your ballot, check out my guide to the ballot, which has a detailed breakdown of all the major sections on your ballot, as well as links to other voter guides you can consult when doing your research. You can also keep up with me on social media at @civicculturellc on Twitter and Instagram. Thanks for reading!